Source: Real Estate Review, Vol. 37, No. 1, Spring 2008.
See full illustrated article at Tourism Development & Economic Opportunity Case Studies, 2015/12/15, p. 155 Greenville, SC.
See also PBS NewsHour video, 8 March 2016, on Greenville, SC,
and Atlanta Magazine, 2012, on Greenville, SC.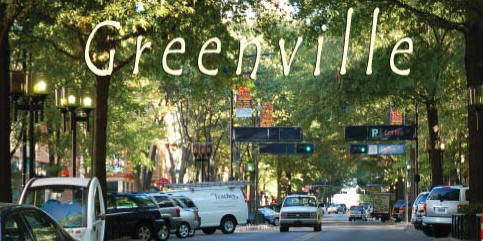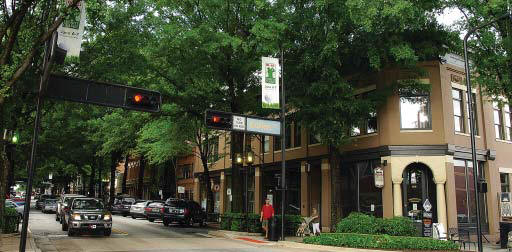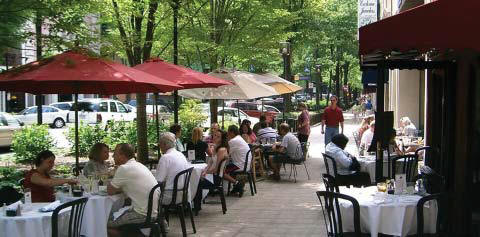 How Greenville, South Carolina, Brought Downtown Back:


A Case Study in 30 Years of Successful Public/Private Collaboration

Nancy P. Whitworth* and Mary Douglas Neal**

*  Nancy Whitworth is the Director of the City of Greenville Economic Development Department and has over 22 years experience in the field of economic development.
  She is experienced in facilitating private development through negotiated participation by the city for major commercial developments in downtown and across the city.

** Mary Douglas Neal (now Mary Douglas Hirsch) is the Downtown Development Manager in the Economic Development Department with the City of Greenville. She is
 directly responsible for working on a day-to-day basis with business owners and developers to promote a viable downtown district.

Having a strong urban core is a top priority for the City of Greenville, South Carolina. For the past 30 years, the city has teamed with the private sector to create unique development partnerships, stimulating a major revitalization of the central business district that has had far-reaching impacts.

With the most impressive strides being made over the last 10 years, Greenville's downtown has gone from abandoned warehouses and empty storefronts to having a thriving central business district, with up-scale restaurants, high-end residential condos and lofts, numerous events, and major new mixed-use developments, consisting of office, residential, hotel, and retail uses, scattered throughout downtown. The sustained momentum is, stunning for a small southern city of just under 60,000 residents.

Greenville's Economic Development Department has played an integral role in the downtown development activity. Focusing on key anchor developments, unique natural assets, a multitude of cultural amenities and attractions, and steady residential growth, the city has utilized its economic and physical strengths, and those of the region, as critical components of the revitalization process. Both local government and private enterprise understand the development process, realizing that a partnership based on mutual respect between both private and public sectors is often the best approach to achieve successful developments.
LOOKING BACK
Greenville, South Carolina is nestled in the foothills of the Appalachian Mountains, midway between Atlanta. Georgia, and Charlotte, North Carolina. The region is home to many national and international corporations such as Michelin North America, General Electric, and BMW. Greenville's industrial development has consistently been strong and growth has been sustained, but not all of Greenville followed this trend. As people moved away from the central city, a rapid decline ensued. Once the unquestioned retail and business center of the area, Greenville's downtown languished in the 1960s and 1970s as shopping centers lured the major retailers to the suburbs, and downtown was left with countless vacant buildings and no people.
Greenville faced what other cities faced—a dying downtown in the midst of a growing region. To meet the challenge, Greenville set out to remake Main Street and to create an atmosphere that would be conducive to office and residential uses, specialty retailing, entertainment, and the arts. Downtown's renaissance has been an evolutionary process marked with significant achievements, and some missteps, over the past 30 years.
GREENVILLE'S APPROACH
Greenville assessed what it had and realized something dramatic needed to happen. With an unappealing and uninviting downtown with no particularly attractive buildings, downtown had to be repositioned to provide a distinctive environment and unique atmosphere.
As Greenville took steps to re-establish its downtown, the city invested strategically in properties, following a plan to develop major anchors in the downtown area and filling in the areas in between with deliberately chosen private sector investors. Greenville took advantage of its small downtown and expanded the activity centers in a logical and connected progression based on a formula which included retail, office, residential, entertainment, and family needs.
No simple formula for success exists. Every downtown is different. In fact, it is important to focus on differentiating one downtown from another, because it is the individual character of a product that commands the highest value in the market place. Greenville's strategy includes a marketing line that also reflects the city's approach to revitalizing the downtown: "Downtown is Everybody's Neighborhood."
The main street streetscape design, completed in 1979, marked the first physical improvement of Greenville's downtown. Although the trend at the time was to emulate the new shopping malls, Greenville chose not to shut down its main street and rather to combine the best of vehicular and pedestrian design.
What set Greenville apart in the early days, was its commitment and understanding that there would have to be a successful alliance of public and private investment. Greenville understood, long before the words public private partnerships became common, that it was necessary for the public sector to step forward to provide the impetus for private investment to occur. Greenville adopted a plan followed by a sustained commitment that led to and continues to support a model downtown.
Greenville leaders focused on a master plan that outlined a strategy for implementation that has been modified and adapted over the years to re- fleet changing market conditions. There was a willingness to try new approaches, take risks, make mistakes, and learn from the successes and the failures. But it was not always easy and was never without critics.
The year 1977 was a significant milestone. The City Council, led by Mayor Max Heller, along with a contingent of philanthropic community leaders, took steps to begin the remaking of downtown. As was reported in the Greenville Piedmont, "Council charged full speed ahead despite the cries of persistent doubters who believe that all the gold at Fort Knox would not save downtown?' And the rest is history. Today, Greenville has transformed from an aging mill town to one of the best downtowns in America recognized for its boutiques, art galleries, restaurants, vibrant entertainment scene, and buzzing night life. What, in retrospect, have been the key factors in this remarkable turnaround.
FOCUS ON DESIGN AND IMAGE
Main Street Greenville was remade to create a pedestrian orientation without sacrificing vehicular traffic. Greenville was not blessed with an attractive streetscape; instead, quite the opposite. A major thoroughfare, Main Street had overhead power lines, four lanes of moving traffic, parallel parking, and little landscaping. When the department stores and shops lined the streets, the lack of physical amenities did not seem to matter—Greenville had people and activity. When the stores left, so did the people, and the streets and sidewalks suddenly turned into vast wastelands. It was often said that you could shoot off a cannon on Main Street at night and not hit a soul! This was not an image that Greenville wanted to have.
Something had to be done, and a plan was born. Designed by Lawrence Halprin and Associates, the streetscape plan condensed the existing Main Street from four lanes down to two lanes of vehicular traffic with free angled parking. The vast expanse of bare pavement made way for trees. The trees, which are now the signature element of Main Street, made it appealing to pedestrians and also covered up some of the unattractive and vacant buildings. Sidewalks were made extra-wide to provide a festive atmosphere and to encourage outside dining and other sidewalk activity. And that was just the beginning; setting the stage for future development. Greenville now had an identity as a tree-lined street with a welcoming canopy of lush green trees that provided cool shady spots for outdoor dining during the warm weather, an ideal that is. characteristic of South Carolina.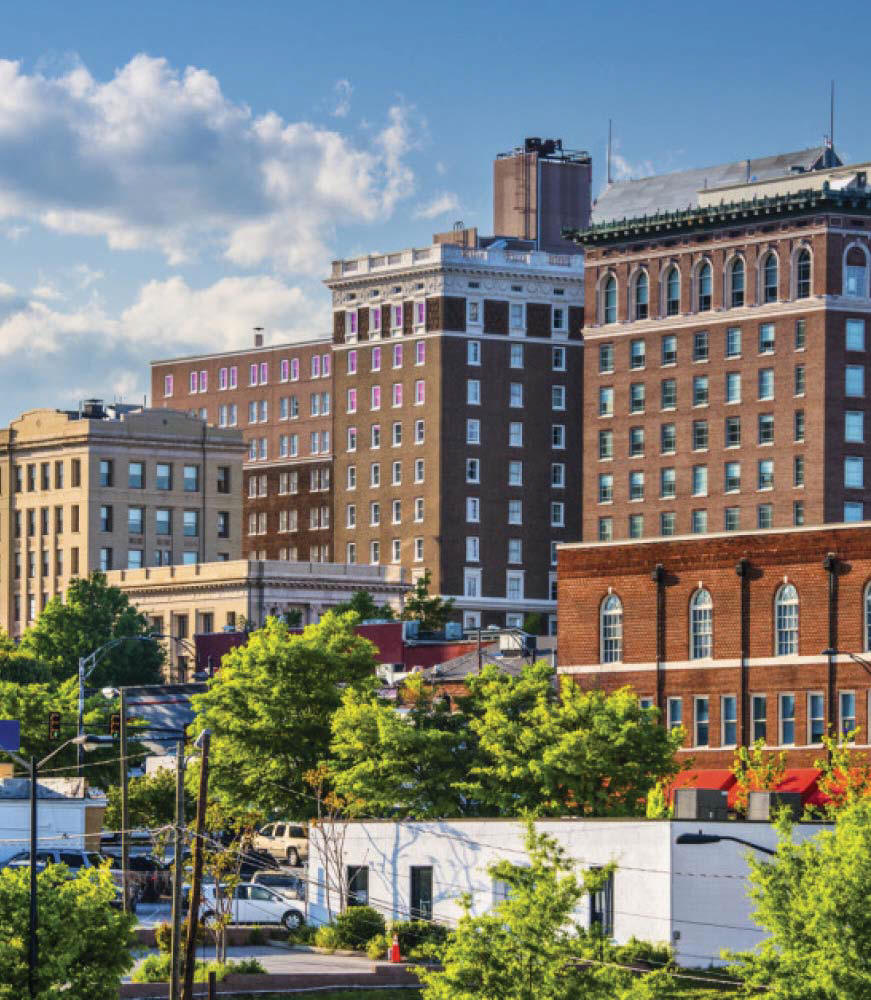 Further planning laid the groundwork for investments in plazas and public spaces. Planning focused on creating and highlighting one of the most spectacular features of Greenville's downtown—Falls Park, which features a 355-foot award winning suspension bridge overlooking a 60. foot waterfall, five stories below. Some cities work to maintain their unique identity; Greenville had to work to uncover its uniqueness. Long ago, the waterfall had beer covered with a state owned, federally funded bridge, which totally obscured the view of the falls and intruded upon the park environment.
When the decision was made in early 2001 "to remove the bridge and free the falls," the skeptics surfaced again. Greenville's Mayor Knox White and the City Council led the public/private effort to remove the bridge and reclaim the heart of the city. The park now not only boasts the bridge, but 20 acres of gardens and amphitheaters for concerts and the summer-long upstate Shakespeare the Park performances. The park has become the city's signature public space providing a quiet respite from the urban environment and a gathering spot for people of all ages.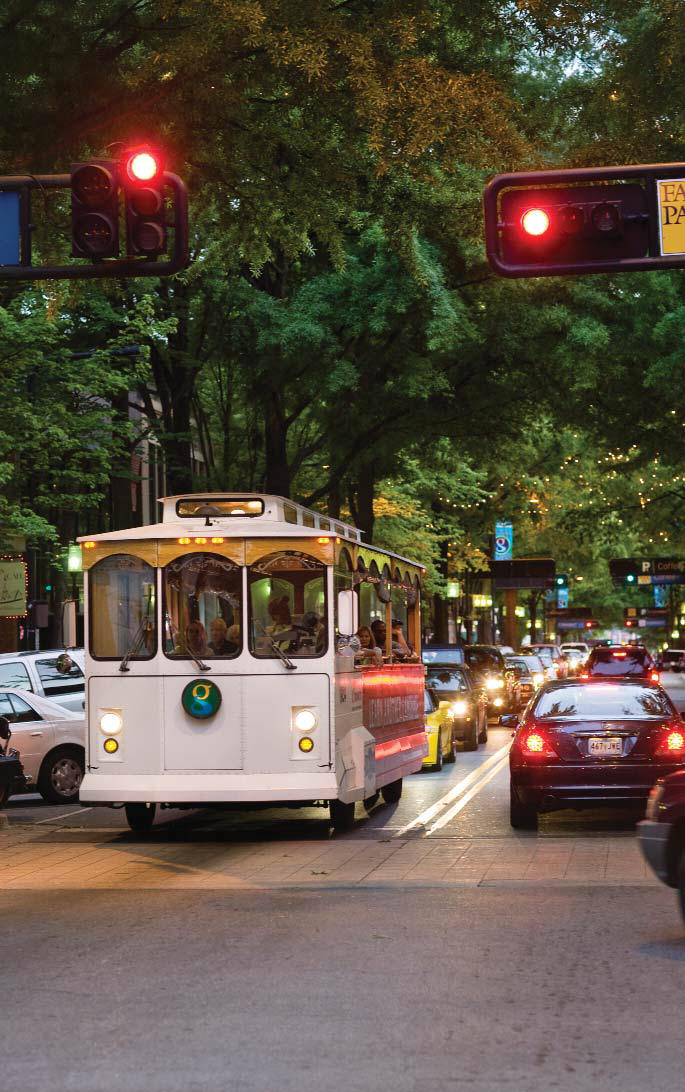 USE CENTRALLY LOCATED INVESTMENTS AS CATALYSTS
Developing anchor projects, through creative public/private partnerships is one approach used by Greenville to spur redevelopment activity in downtown. An anchor can signal a rallying point for the corn munity and serve as the catalyst for future complementary development. Combining the efforts of the public and private sectors can help ensure its success.
Table I
Summary of Downtown Development Projects
Project
Year
Completed

Investment Levels
Public
Private
Total

Project Components
Greenville Commons
1982
$10 million
$24 million
$34 million
350 room Hyatt Regency Hotel;
43,000 SF meeting space;
Restaurant;
92,000 SF office space;
832 space parking garage
The Peace Center for the Performing Arts
1991
$13.9 million
$28.5 million
$42.4 million
2,100 seat concert hall;
400 seat theater;
2,000 seat outdoor amphitheater;
28,500 SF office building;
Restaurant;
Park and public space;
Cabaret theater;
Former coach factory meeting facility
West End Market
1995
$4.16 million
N/A
$4.16 million
35,000 SF of retail/restaurant space;
10,000 SF of office space
Poinsett Plaza/Hotel
1999/2000
$15.1 million
$39 million
$54.1 million
220,000 SF office space;
4 residential penthouses;
204 room Westin Poinsett Hotel;
Streetscape and park improvements;
An 843-space Parking garage
West End Baseball Stadium/Field House
2006
$8.5 million
$20.7 million
$29.2 million
Stadium with 4,500 fixed seats pavilion;
Playground;
Green Monster media board modeled
  after Fenway Park;
Mixed-use building with 40 residential
  condos and 55,000 SF
RiverPlace
2005
$13.5 million
$37 million
$50.5 million
Two residential condo buildings with 46
  total units;
115 room Hampton inn and Suites Hotel;
87,000 SF office building;
5,000 SF artist studio spaces;
285 space parking garage;
Streetscape and river walk improvements
  and an interactive water feature
Falls Park and Liberty Bridge
2004
$13 million
$3.4 million
$16.4 million
Bridge demolition;
Landscape and irrigation;
Stream restoration;
New pedestrian bridge;
Hardscape and buildings and design and
  construction management

Greenville Commons
Greenville's first anchor and first major public/private partnership was he Greenville Commons, which incorporated a Hyatt Regency Hotel, *mention center, office complex, and parking garage. A dedicated group of Greenville businessmen put their investment at risk to ensure that this project happened. The city purchased the land, built the convention center and parking garage and leased the air rights for the hotel and office building. The hotel atrium was considered a city park.
The success of the Commons was not simply the financial success of the project, although the Hyatt is still operating, today, but rather the spillover impact of the new office buildings which were constructed nearby resulting from the renewed interest in downtown development. It also began a new way of doing business for the city as the public and private sectors worked together to achieve the dream. The public sector provides the spark plug, but it is the private sector that is the engine in Greenville. However, neither works without the other.
Continuing on with its plans and focusing on the success of public/private partnerships, Greenville steadily moved in a logical progression to develop further downtown anchors, ensuring that they were strategically located in order to maximize the potential impact.
The Peace Center for the Performing Arts
The Peace Center for the Performing Arts stabilized a less than desirable part of town and linked downtown to a hidden asset—the river, waterfall, and park. The center included the addition of major facilities, renovated several historic structures into productive space, and gave people a reason to come downtown at night and on weekends. The Peace Center is a perfect example of the beauty of a public/private partnership, with a lead gift given by a prominent local family, and the entire community lending support in a myriad of ways. For its part, the city acquired the property (primarily through tax increment financing) and provided the landscaping and amenities. Eminent domain, typically used sparingly in Greenville, was necessary to secure some of the property.
West End Market
Greenville's next major anchor required a different approach. The historic West End of downtown was blighted, yet strategically connected. Even after completing streetscape improvements and providing low interest loans, the private sector was reluctant to invest. With a private donation of neglected, historic buildings, the city, led by Mayor Bill Workman and City Council, took the risk of developing the West End Market, a major 45,000 square foot destination for residents and visitors alike. Recognizing that private investments would not be taking the lead in developing in this location, the city assumed the developer role, along with the attendant financial and market risk, to create a facility with office, retail, restaurants, artisans, and a traditional fanner's market, all in a festive and park-like setting.
The financing structure required the pooling of a number of sources: tax increment financing, a HUD Section 108 loan, grants, city general find dollars, and even the sale of personalized bricks. The city took on a significant risk but learned first hand the private side of a deal. The West End Market was sold in 2005, yielding a net profit to the city to invest in other projects.
The establishment of the Market led to an arts and entertainment district of restaurants, theaters, and the Governors School for the Arts, a year round residential school for the arts and humanities attracting high school students from across the state.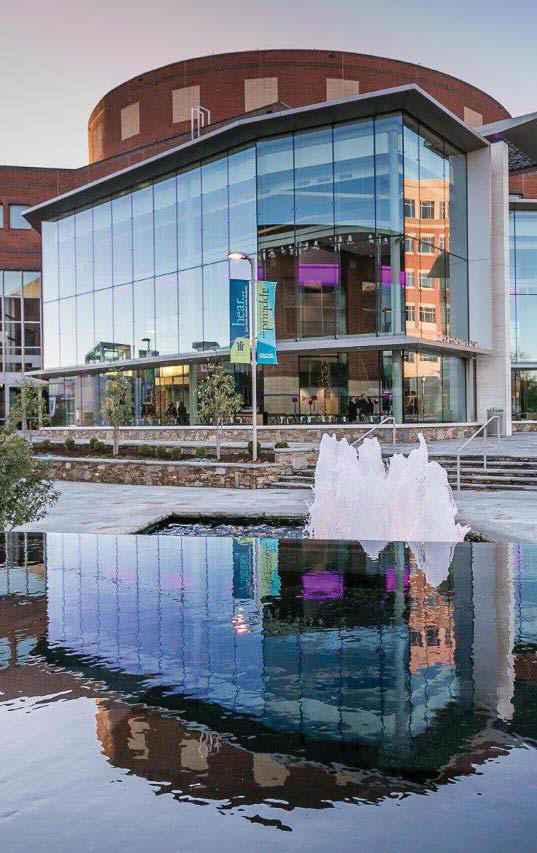 Poinsett Plaza Hotel
Sometimes mixed-use developments include multiple buildings and developers all within the same project. The city was working with the owner of a vacant and neglected historic hotel when it became apparent that a parking structure, required to support the hotel, should be sized to accommodate other potential developments as well. The city approached a local bank, then housed in an adjoining historic building, to inquire as to whether the need for new space might become imminent. A developer was identified, who was in the vacant and neglected hotel, and the result was the Westin Poinsett Hotel, a renovated 204 room hotel. Along with the renovated hotel came a new 220,000 square-foot office building with residential penthouses and 44 condominium units, which were the result of the renovation of a vacant educational wing of a nearby church.
Tax increment financing was again used, this time to construct the parking garage with a design that incorporated the architectural elements of each development (the sides of the garage match the building on the corresponding side—one side has brick and the other concrete). Even though the city's financial participation was necessary, perhaps more important was its role in bringing the various private partners together and coordinating the various contractors with tight schedules and space.
West End Baseball Stadium
More recently, a public/private partnership resulted in an award-winning new baseball stadium in the West End, which was designed to feel as if it were a long-standing community facility. The city provided development ready land and leased the property to the owners of a new team, the Greenville Drive (an affiliate of the Boston Red Sox), who were interested in locating in Greenville.
Constructed from old brick salvaged from demolished textile mills, the Drive now play in a neo-traditional designed stadium with a left-field wall reminiscent of Fenway Park's Green Monster. A newly constructed building including offices, restaurants, retail, and residential condominiums lines one side of the baseball stadium, and other restaurants and offices have located in nearby renovated space. Another great example of a public/private partnership, funding for the project came primarily from tax increment financing, sale proceeds from the West End Market, hospitality finds, and storm water and sewer funds. The team owners constructed the stadium using all future stadium and ticket revenues.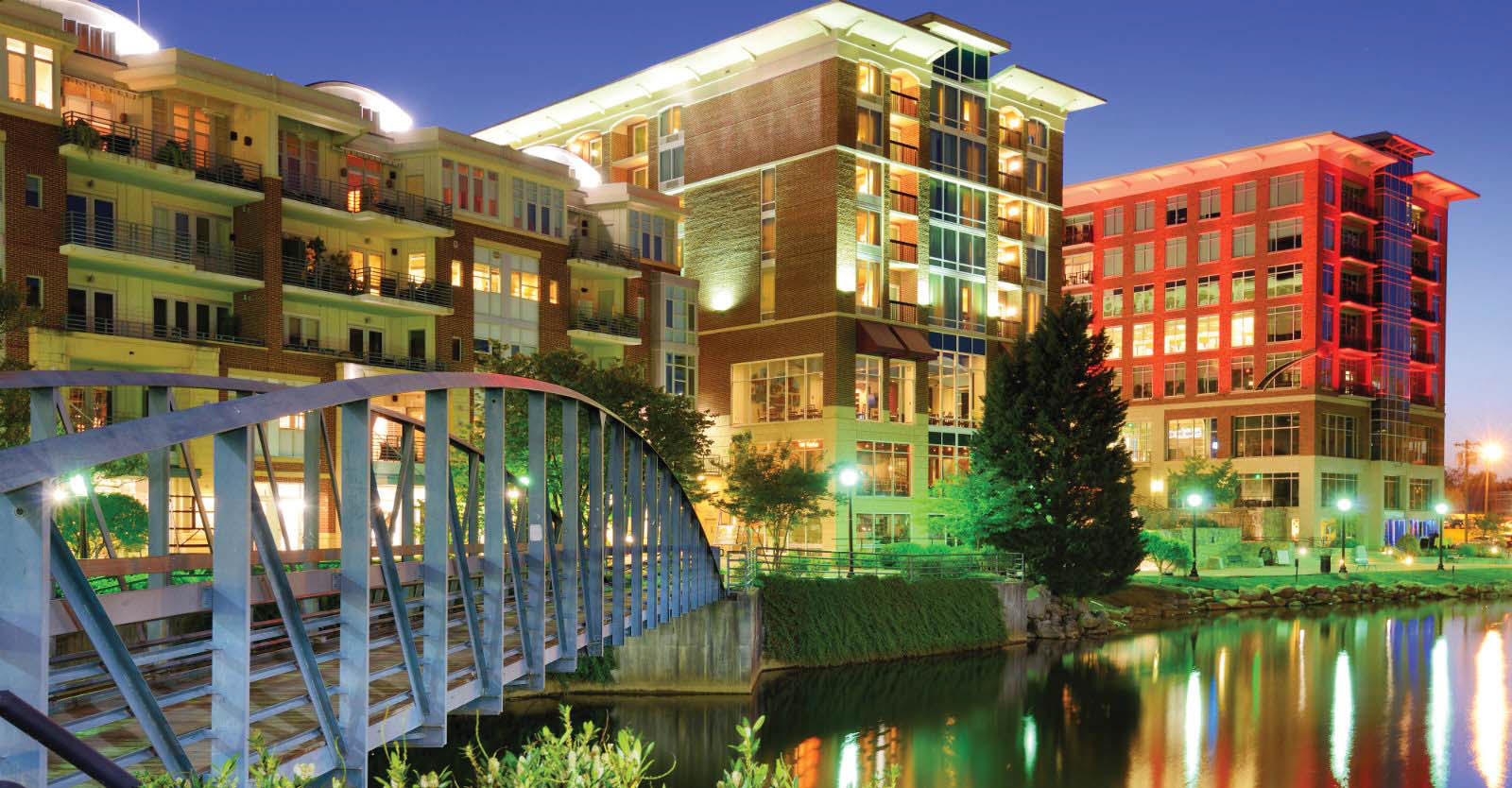 RiverPlace
RiverPlace is the latest example of a major public/private partnership. A collection of buildings along the Reedy River with office buildings, residential condos, restaurants, artist studio spaces, and an interactive water feature, this complicated public/private partnership required layers of ownership over different elevations and a marriage of public and private interests.
For many years the community had turned its back on the Reedy River riverfront. Upstream industries had been allowed to dump industrial chemicals into the river, causing major pollution issues and contaminating the river. The challenges faced to develop this area were many.
The revitalization of the adjacent Falls Park provided the impetus to further the reclamation of the riverfront. For over 25 years, a 10-acre tract had been privately assembled with plans for a mixed-use development. The owners wanted to wait until the market was ripe for a significant development. With the negotiations occurring between the city and private developers, the time had come to revitalize this area—which sits at the literal heart of downtown. The resulting development was environmentally sensitive to the sites and established a design standard for the community. The city constructed underground parking with private development constructed above. Public walkways and plazas link to the park. Parking spaces along the riverfront were designed for artist studio spaces that are leased for the cost of a parking space. Eminent domain was required to assemble some of the public walkways.

ATTEND TO THE DETAILS
Details do matter.
Downtowns are not just about the big projects and planting of trees. As in any major development, attention to the details and maintaining the value of the investment is critical. Attractive landscaping, seating, lighting, and sculpture alone will not make things happen, but it does provide a backdrop for the important elements and gives a sense of place and identity to set the stage for a transformation. As their Mayor Max Heller was quoted at the streetscape groundbreaking in 1978, "We are delighted to make the beginning of the new downtown. It will give the core of our city a much more beautiful appearance and will be its reflection of the whole area." The physical environment should be designed and programmed to encourage its use and reinforce a sense of place with a focus always on people.
In the years since 1978, Greenville has focused its attention on a number of details in order to ensure not only that people come to downtown but that private investment comes downtown as well.
Clean and Safe
Downtown crews provide daily clean up. Sidewalks and streets an routinely washed. Seasonal plantings provide color. Police officers or foot and bike patrol provide an enhanced level of service in downtown.
Signage/Wayfinding
Attractive, coordinated and easy-to-read signage pro vides pedestrians with directional wayfinding for down town destinations. "More to enjoy" signs on Main Street direct visitors to retail and restaurants on side streets.
Events
Downtown averages over 250 event days per year. Events include something for everyone, from singles to families, senior citizens to college students: weekly concerts, art festivals, moonlight movies, theatrical performances, music, festivals, holiday celebrations, and parades. Downtown events achieve a number of objectives including drawing people into downtown for entertainment, providing them with reason to dine in one of downtown's eighty plus restaurants and renewing their enthusiasm for all that the city has to offer.
Outdoor Dining
Downtown Greenville's original streetscape design from the 1970s narrowed Main Street and enlarged the sidewalks. The wide sidewalks provide ample space for downtown restaurants to add tables and chairs for outdoor dining and the generation of additional revenues for these restaurants. The sidewalk cafes create a festive atmosphere for people watching.
Public Art
Public art fills downtown. Whether a statue of a famous Greenvillian, a juried sculpture, art on construction fencing, nine bronze mice scattered throughout Main Street with clues, quotes in the sidewalk, bells in the trees, or sidewalk performers, there is something for everyone, further enhancing downtown's personality.

SHARING THE LESSONS LEARNED IN GREENVILLE
Build anchors
Anchors are not a guarantee, but they set the tone for future development and the standard and direction for what can follow. Anchors should be strategically located to obtain the most impact and should be well linked with high-quality pedestrian corridors.
Create a critical mass
To be economically self-sustaining, a downtown must attract people not only to live and work there, but tourists must bring their business as well. Mixed-use developments help to provide the variety and stability for tourism and office/residential needs.
Be an entrepreneur
The public sector needs to think and act entrepreneurially, understand and appreciate the inherent risks of private development, and be willing to assume well-calculated risks.
Bring value to the private development
The public sector's value to the private development is not just monetary. There are other ways to provide value including the following ideas:
provide expedited reviews
assist in scheduling and staging of construction, assign effective city staff to function as part of the development team to serve as problem solvers.
Commit in writing
Agreements are essential. Expectations and responsibilities of each partner should be clearly defined. The private sector must understand the transparency of the public process and be patient. Time commitments must be realistic. The city has an extensive history of writing development agreements that stipulate the duties and obligations of each sector. Both sides often return again and again to these agreements for clarification as issues or questions arise.
Include residential uses
The City of Greenville realizes the importance of ensuring that downtown is everyone's neighborhood. Providing downtown residences is essential. It will never be enough to just get people to visit and work downtown; people need to actually live downtown to support retail, restaurants, and cultural venues and, most importantly, to create an active street life. The initial focus of residential construction was mainly apartments and condos above the shops lining Main Street. Now, major residential components are included in most of the mixed-use developments throughout downtown. Many of the residential units have been sold by auction. Over the past five to seven years, approximately 500 residential units have been constructed. Currently, there are an additional 500 units under construction and nearly one hundred more planned.
It is important to realize a balancing act is needed in a central business district as the introduction of residential areas into a vibrant and lively downtown can often result in conflict. Balancing the entertainment with residential needs is tricky. Of late, the city, through its development agreements with private developers, is requiring an acknowledgement that some areas of the downtown will include entertainment venues so as to head off potential future conflicts.
With the growth of new development activity, land values in the downtown area have increased, causing some properties to be financially out of reach of a large segment of the population. The city is addressing the affordability of downtown residential growth in a variety of ways, including the establishment of a Housing Trust Fund, land writedowns for new affordable and mixed income housing, down payment assistance to qualified buyers, contribution to infrastructure to reduce development costs, partnerships with non-profit and civic-minded developers and employment training programs designed to raise income levels.
Sustained public commitment and investment
Greenville's elected officials made tough decisions along the way. It was not always easy; each project presented unique challenges. However, the city's leadership persevered. They studied the issues, took calculated risks, and invested in the downtown, understanding that the returns may not come until much later. The visionary, effective and persistent public policy and investment has allowed Greenville to realize its potential.
The Greenville community supported the revitalization, which was incredibly important and provided the elected officials a safety net. The leadership also demonstrated to the community that due to state annexation laws limiting how the corporate boundary could expand, its economic survival was going to be dependent on growing from within. This focus proved fortuitous. Not only has the downtown prospered, but so has the region. It also allowed Greenville's Mayor Knox White and City Council to focus on the revitalization of inner city neighborhoods adjacent to downtown.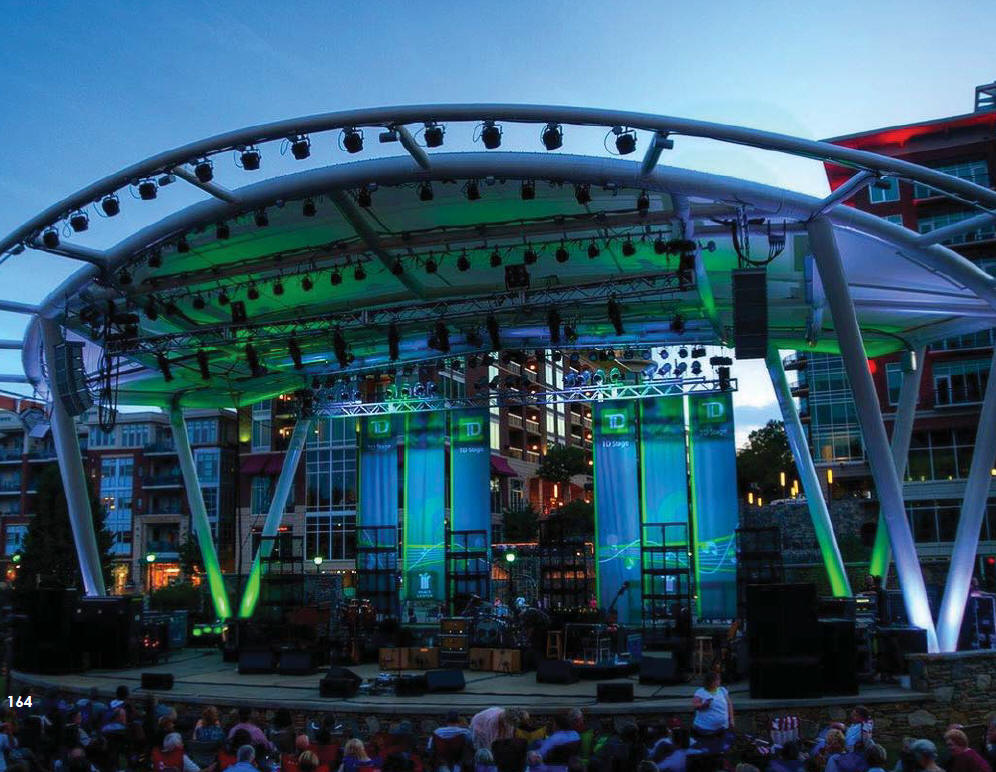 SUMMARY
Greenville has focused on creating a place that is authentic, sustainable, and first and foremost for people. The city has elected to invest in public spaces, parking facilities, and critical infrastructure required for quality private development. The city's mantra has been public/private partnerships, but it has not shied away from solely taking on a development project in a blighted area if necessary to draw private developers out of their comfort zone. The desire to create an award-winning city is not just about pride; it is also about creating jobs. The success of downtown is a selling tool for recruiting and keeping quality employers, whether in downtown or within the region.
The success of Main Street and downtown Greenville is a result of nearly 30 years of hard work and strong partnerships between the public and private sectors. Together, the city along with the community has been able to realize the potential, capitalize on Greenville's uniqueness, and revitalize downtown. While the heart of the city is strong, Greenville must now focus efforts to build beyond Main Street. The city must create gateways into downtown that are aesthetically appealing and consistent with the area. As the city undertakes these new challenges, Greenvillians look forward to renewing partnerships and creating new ones.
REFERENCES
City of Greenville Development Planning and Economic Development Staff (1986). Redevelopment Plan: Central Business District.
Crane Associates Inc. (1981 ). Greenville Central Area Action Plan.
The Fantus Company (1987). Performing Arts Feasibility Study.


Related document links added March 2016:

Lawrence Halprin and Associates (1974). An Urban Diagnosis for Greenville, South Carolina.
Land Design/Research, Inc. (1987). Downtown Development Plan and Program: Greenville, South Carolina.
Land Design/Research, Inc. (1989). Downtown Development Strategy: Greenville, South Carolina.
Land Design/Research, Inc. (1998). Downtown Greenville Sector Plans. Land Design/Research, Inc. (1986). Greenville Center for the Performing Arts: Site Assessment and Action. Strategy.
Land Design/Research, Inc. (1989). Greenville Public Market: Public Market Assessment.
Post, Buckley, Schuh & Jernigan, Inc. (1990). Evaluation of the Feasibility of Removing the Camperdown Way Bridge.
Zuchelli, Hunter & Associates, Inc. (1977). Proposal for Greenville Commons.